Last week Veeam launched a new version of Veeam Backup & Replication v7. In this version there are a lot of new features and enhancements.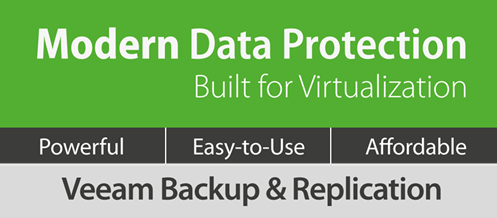 I already created a blog post about the 7 biggest features. See my blog post: https://blog.mrpol.nl/2013/05/23/veeam-announces-latest-features-v7/
For an overview of all the new things see the What's new document.
These new Features are in my opinion the ones I like the most or looked out for the most.
Native tape support
Many organizations have invested in tape and are subject to policies requiring tape. Veeam Backup & Replication v7 offers you an easy way to copy files and backups on tape, with support for virtual tape libraries (VTLs), tape libraries and standalone drives. Files, VMs and restore points are tracked on tape, enabling you to easily locate items and making restores easy.
Built-in WAN Acceleration
Offsite storage of backups is a critical component of a good data protection strategy, and in v7, Veeam makes offsite storage easy with Built-in WAN Acceleration. Caching, variable block length data fingerprinting and TCP/IP protocol optimizations result in up to 50 times faster transfers of Veeam backups across the WAN while eliminating the need for additional backup jobs, copy scripts and capabilities like storage-based replication. Best of all, there are no VM- or host-based agents to install and no special network setup required.
High performance Backup from Storage Snapshots
Continuing what we started with the introduction of Veeam Explorer™ for Storage Snapshots in version 6.5, Veeam Backup & Replication v7 takes advantage of SAN snapshots again to offer new capabilities for powerful data protection. Exclusive innovations, including direct VMFS access and the ability to leverage VMware Changed Block Tracking, enable instant VMware snapshot commit and let you create backups and replicas from storage snapshots as often as you like and whenever you like. The result is dramatically improved RPOs for near-CDP that doesn't impact your production environment or running VMs.
This VMware-only feature currently supports HP StoreVirtual VSA, HP StoreVirtual and HP StoreServ storage product lines.
Backup Copy jobs
Grandfather-father-son (GFS) policy. This data retention feature helps you meet data archival requirements by copying and storing full VM backups for specified intervals of time.
Engine enhancements
Parallel processing of multiple VMs. Enables better utilization and saturation of your storage infrastructure, eliminates dead time between backups and improves overall backup performance. 
Parallel processing of virtual disks within VMs. Significantly improves backup performance for VMs with multiple large disks and reduces the amount of time a VM runs off its snapshot, thus helping to reduce snapshot commit times.
Resume on disconnect. Data movers are now capable of transparently resuming communication after a network connection drops completely for a short period of time. This capability dramatically improves the reliability of remote backup and replication.
Hardware-accelerated compression. A new default compression level with a proprietary algorithm implementation leverages advanced CPU instruction sets (SSE extensions). This reduces backup proxy CPU usage up to 10 times when compared to the previous default compression level.
64-bit data movers. Backup repositories can now support appreciably larger backups. Please note versions of Windows prior to Microsoft Windows 2012 have a 16TB limit for maximum NTFS file size. This limit roughly equates to a maximum of 25TB of source data per backup job.
Backup repository overload protection. When a backup repository's storage is overloaded with regard to I/O capacity, new tasks are not assigned to that backup repository even if task slots are available.
Reduced memory consumption. Memory consumption optimization allows 32-bit data movers to support larger backups.
Enhanced I/O pattern for data writes. Decreased fragmentation within backups files results in improved backup and restore performance, as well as reduced degradation from full backup file transformations over time.
Automatic termination of deduplication. When full backup files significantly exceed the maximum size recommended by Veeam Backup & Replication, deduplication is automatically disabled for those specific backup files. This measure is intended to increase the reliability of deployments that perhaps were not carefully planned or are not optimally configured.
Graceful job stop. Attempt to cleanly shut down all jobs when the Veeam Backup & Replication service is stopped (either manually or as a result of a computer shutdown).
Transparent backup of vCenter Server VM. The vCenter Server VM can now be backed up without having to resort to workarounds, such as adding the vCenter Server's host by IP address and then configuring a separate job for it.
Concurrent snapshots commit operations. The maximum number of concurrent operations is now automatically limited to a preconfigured value (per standalone host or cluster). This reduces the impact of snapshot commits on your production environment. Maximum values are configured via updates to corresponding registry values.
Veeam Explorer for Microsoft Exchange
Microsoft Exchange 2013. Support for Microsoft Exchange 2013 is now available.
Restore to original location. Redesigned restores to original location are now faster and more reliable.
Restore to Office 365. Experimental support is available for restoring mailbox items to Microsoft Office 365.
Windows UI
Credentials Manager. All accounts used throughout Veeam Backup & Replication can be managed through one central dialog, allowing account passwords to be easily updated when they change.
Enterprise Manager
RESTful API. All Enterprise Manager functionality is now available through the RESTful API, enabling integration with existing web portals and other web applications.
Storage integration
HP StoreServ (3PAR). HP StoreServ is now supported by Veeam Explorer for Storage Snapshots (Fibre Channel connectivity only).
HP StoreVirtual VSA. Versions 10 and 10.5 are now supported by Veeam Explorer for Storage Snapshots.
HP StoreVirtual registration. The registration process has been revamped to avoid timeouts with large infrastructures.
Plug-in architecture. A new storage plug-in architecture is now in place to simplify the process of adding support for other storage vendors and models in future releases. This architecture is not meant to be leveraged by storage vendors directly; rather, implementation will be performed by Veeam.
Conclusion
Seeing all the new and enhanced features, definitely a good choice to upgrade to the newer version.
Links and other information.
Disclaimer.
The information in this article is provided "AS IS" with no warranties, and confers no rights. This article does not represent the thoughts, intentions, plans or strategies of my employer. It is solely my opinion.