These are my study notes for the VCP5 exam I am going to take in January 2012. I am already a VCP4 so I will take upgrade path, this path is only available until February 29 2012.
How to become a VCP.
There are different paths to VCP5 certification based on your background. Choose your path and complete the three core validation components:
Attend a qualifying VMware authorized course.
Already a VCP4? There is no course requirement until February 29, 2012.
Gain hands-on experience with VMware vSphere 5.
Pass the VCP5 Exam.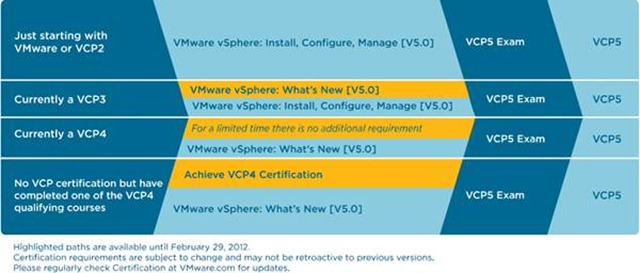 Source: http://mylearn.vmware.com/mgrReg/plan.cfm?plan=12457&ui=www_cert
Exam Blueprint.
VMware created a blueprint for the VPC5 exam. This document describes what to know, how many points are needed etc. Link to the Blueprint: http://mylearn.vmware.com/register.cfm?course=103110 or http://communities.vmware.com/docs/DOC-16726
Exam Objectives.
These are the objectives discussed in the Exam Blueprint, these are the topics for the VCP5 exam.
Section 1 – Plan, Install, Configure and Upgrade vCenter Server and VMware ESXi
Section 2 – Plan and Configure vSphere Networking
Section 3 – Plan and Configure vSphere Storage
Section 4 – Deploy and Administer Virtual Machines and vApps
Section 5 – Establish and Maintain Service Levels
Section 6 – Perform Basic Troubleshooting
Section 7 – Monitor a vSphere Implementation and Manage vCenter Server Alarms
VMware documentation.
Of course VMware created a lot of documentation, manuals and whitepapers. These are the most important ones. Read them en learn them.
New Features and Release Notes
Compatibility and Configuration Limits
ESXi and vCenter Server Product Documentation
Online Archive vSphere 5 Documentation Centre. http://pubs.vmware.com/vsphere-50/index.jsp

What's new whitepapers.
Books.
There are some very good books that provide you with a lot of knowledge that can be used to prepare for the exam. These are. I have both books and I find them extremely useful.
Mastering VMware vSphere 5Virtualization is hotter than ever. VMware vSphere is the most widely deployed virtualization platform, and this indispensable book by VMware vExpert and VCDX Scott Lowe is your key to harnessing the newest version. Using step-by-step instruction and real-world examples, he takes you under the hood of VMware vSphere 5 and shows you how to get the very most out of all its components. Learn how to install, configure, operate, monitor, secure, and automate your virtual infrastructure from a leading expert and with the leading virtualization solution.ISBN: 9780470890806 | 0470890800

Also available as Kindle e-book

VMware vSphere 5.0 Clustering Technical DeepdiveVMware vSphere 5.0 Clustering Technical Deepdive zooms in on three key components of every VMware based infrastructure and is by no means a "how to" guide. It covers the basic steps needed to create a vSphere HA and DRS cluster and to implement Storage DRS. Even more important, it explains the concepts and mechanisms behind HA, DRS and Storage DRS which will enable you to make well educated decisions. This book will take you in to the trenches of HA, DRS and Storage DRS and will give you the tools to understand and implement e.g. HA admission control policies, DRS resource pools, Datastore Clusters and resource allocation settings.ISBN: 1-4610-4032-9 | 1461040329

Also available as Kindle e-book
Training videos.
| | |
| --- | --- |
| David Davis and Elias Khnaser have created an excellent video based training for Trainsignal. This training will help you prepare for the exam. When you watch all the chapters you get familiar with all the new features that vSphere 5 will offer. I have seen them all, and I've learned a lot.For more information, see http://www.trainsignal.com/VMware-vSphere-5-Training.aspx | |
VCP5 Resource Blogs
VCP5 practice exams.
These are some practice exams I've found online. I should be noted that these do not necessarily indicate the types and styles of questions you will get in the real exam, and the accuracy of these practice exams cannot be guaranteed either.
VCP5 Exam experience
Of course there are other people that already taken the exam, these are there experiences.
Disclaimer.
The information in this article is provided "AS IS" with no warranties, and confers no rights. This article does not represent the thoughts, intentions, plans or strategies of my employer. It is solely my opinion.