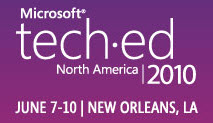 This week June 7 – 11th there is a big Technet Event in New Orleans. There are a lot of good technical Microsoft Product sessions. Here are some interesting links to a few worth watching.
For more sessions from TechEd North America see http://www.msteched.com/
Disclaimer.
The information in this article is provided "AS IS" with no warranties, and confers no rights. This article does not represent the thoughts, intentions, plans or strategies of my employer. It is solely my opinion.